---
---


Put on your walking shoes or wheel around town for a self-guided tour
of our truly amazing history in Bay St. Louis, Mississippi.
The Bay St. Louis motto is as unique as the city itself: "A Place Apart." It speaks of an appreciation of diversity and a unique heritage that residents treasure. For over three centuries, Bay St. Louis has been home to colorful characters, fanciful buildings, and an unquenchable community spirit.
The original settlement was established in 1699 by the French explorers d'Iberville and Bienville. Known for years simply as "the Bay of St. Louis," in the early 1800's it officially took on the name of Shieldsboro, after a ship's purser named Thomas Shields. Shields resided in the town and often delivered mail on his return from voyages.
The incorporation of the city under the name of Bay St. Louis was the first act of the new Mississippi legislature in 1818. It was slated to be the state capital, but in a suspenseful last minute vote, was beat out by Natchez – which soon lost the title to Jackson.
However, citizens here never lost that capital city attitude and through the centuries, Bay St. Louis grew into a center for arts, recreation and a bon vivant lifestyle. Visitors are frequently smitten after a short stay and often become residents. And most residents declare they'd live nowhere else on earth.
We invite you to meander through our streets and absorb some of our authentic Southern character. We think you'll wind up understanding why Bay St. Louis is truly A Place Apart.
While we encourage exploring our public treasures here, please respect the privacy of our residential listings.
Bay St. Louis contains many more historical jewels in addition to the sampling featured in this tour. Here are just a few of the memorable landmarks you'll see by taking more time to explore our "Place Apart."
A. The Angel Tree – de Montluzin Street near Beach Boulevard
Carved angels commemorate three survivors who rode out Hurricane Katrina in this tree.
B. Our Lady of the Gulf Catholic Church – 228 South Beach Boulevard
This magnificent Romanesque church built in 1908 overlooks the Mississippi Sound.
C. 100 Men Hall – 303 Union Street
Built in 1923, for decades this recently renovated building was a musical venue for some of the South's top performers.
D. St. Rose de Lima Catholic Church – 301 South Necaise Avenue
The "Christ in the Oak" mural behind the altar of this 1926 church is a nationally recognized work of art.
Just down the beach is our Sister City, Waveland. In the midst of rebuilding, this charming town boasts beautiful beaches with a biking and walking path, the newly restored Waveland Civic Center, the Veterans Memorial on the beach at Coleman Avenue, and the Garfield Ladner Memorial Pier, scheduled to open in the fall of 2009. Be sure to look for the Waveland Walking & Biking Tour brochure featuring both historic and fresh hot spots in this laid-back beachside village.
Don't stop now!
You've just begun to sample the scenic delights of our city.
For an unbeatable vista, experience the walking and bike path on the new Bay of St. Louis Bridge. Recently winner of a national People's Choice award for the best bridge, the path is marked at 1/10 mile intervals by bronze bas relief plaques created from work by some of our best artists. Pylons at either entrance to the bridge are enormous works of art in themselves and present fabulous photo opportunities. The unforgettable path is just over 4 miles long roundtrip with moderate inclines.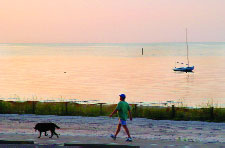 The Bay–Waveland Beach Trail is a flat, approximately three mile path that runs directly along the beach from the Washington Street Pier in Bay St. Louis to the Pier at Coleman Avenue in Waveland, our sister city. Take a break along the way, sit by the water's edge and enjoy the acrobatics performed by pelicans and gulls. Birdwatchers will revel in the astonishing variety of species that can be spotted on the trail. Keep a sharp eye out near Waveland for the bald eagle that's taken up residence in the vicinity!
Hancock Main Street • Hancock Chamber of Commerce
412 Highway 90, Suite 6 • Bay St. Louis, MS 39520
228/467-9048 • www.hancockchamber.org